Description
Forster Co Ax reloading press –  B5 model.  The Rolls Royce of reloading presses
This is the most accurate and powerful single stage reloading press on the market. This is one of the easiest to operate and has several unique features.
Ask any owner, most will say "why didn't I buy this press first?"  This certainly makes the ammunition reloading process a joy.
Snap in, snap out Die changing which means you can have many dies of many calibres setup and ready to click in.
Self contained spent primer system keeps everything clean and simple
Dual floating guide rods ensure Precision and perfect alignment
Heavy duty Automotive-grade ductile iron casting
Long life design. All forces are in equilibrium whether at full load or at rest
Requires no heavy duty mounting due to the coaxial design
Up to three times the mechanical advantage of regular C frame presses
Many more advantages and none of the disadvantages of Turret presses
Compatible with any standard 7/8″-14 reloading dies (NB. best used with Forster lock rings)
Plenty of working room. Easy for Left or Right handed use.
Automatic shellholder system covers 90% of all cartridges. Optional LS jaws covers most of the rest
The Cartridge cases and Reloading dies self align because of the floating shell holder system
Unique press top priming mechanism
Quality – Made in the USA. Comes well packaged and includes 2 lock rings for dies in the box.
Buy once….cry once….own for life
Whats included?
The Press
The automatic shellholder STD jaws system.
The primer catcher system
The priming system included for both for small rifle and large rifle primers
The large handle
Two (2) Forster Crossbolt lock rings for dies other than Forster brand (Forster dies already come with these lock rings)
Optional extras include: Press cover, Short handle with ball knob, L-S jaw set, Quick Change Jaw sets, Crossbolt Lock rings by the dozen if needed
Click this link for more information about this press -> Forster Co Ax Reloading Press Information Sheet
*Video  Forster Co-Ax reloading press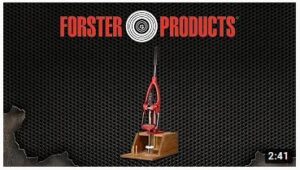 *Video  Forster Reloading class – Co-ax