Description
Forster Datum Dial tool
One of the most important tools for all reloaders !
It is used to obtain relative measurements of cartridge headspace which is essential to correct setup of FL reszing dies and shoulder bump dies.
The tool body clamps to a digital caliper. The Cartridge headspace dial consists of 5 different sized holes to cover which will allow relative measurements of most regular cartridge cases.
Rimless cartridge cases headspace measurements are taken from the Datum line approx half way on the shoulder to the bottom of the case head. By selecting the appropriate size hole
on the dial which clicks into place you can obtain a "relative measurement" of this headspace from a cartridge fired in your gun. Then by careful adjustment of the FL resizing die or a
Bushing Shoulder Bump die you can achieve the precise "shoulder bump" for uniformity and safety.
*Video – Forster Datum Dial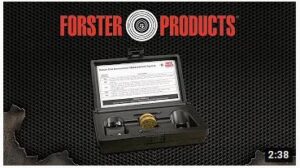 Video – 'Ultimate Reloader' on Datum Dial