Description
BRT rear bag former – Timber block with special Velcro strap
This bag former is designed to keep the shape of your rear Bench Rest type shooting bag. Simulates the butt stock shape of your rifle and prevent the bag from distortion.
Timber formers are in two (2) sizes and shapes. Choose 13mm or 19mm which refers to the width across the bottom edge. (also refer to diagram below)
The Timber is a special softwood that won't bleed tannin and is not finished or sealed on purpose. It should not need sealing but if you prefer, you can.
A Velcro strap wraps around the bag to hold the Timber former in place and also supports the bag for carrying easily. Makes life better for transport and storing properly too.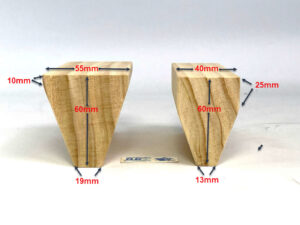 Stuart Tips:
It is always important to be very careful about looking after the shape and the form of your rear bag. Especially when shooting competition. We often see people pick up their rear bag to move and roll it end on or upside down etc. Then, on the next relay they shoot, wonder why things take many shots to settle down!
We are getting only two sizes of these made. We are aware there are many different butt stock shapes so this timber is selected (its a Softwood) so you can easily trace and reshape yourself to match a particular shape of your rifle Butt stock using some basic woodwork tools.  Also if your rear bag has small ears the top will need to be trimmed of course. If you choose to apply a sealer make sure it does not bleed or rub off onto the ears of the bag. We prefer to leave ours natural.