Description
Ultramount Leg Set Micro 4 inch InLine Fabrication
This leg set is the shortest or lowest of the 3 types of InLine leg sets available and consists of 2 legs (4.0″)
Works with  the range of Dedicated Press Top plates available to suit most presses and bolt directly on top of these legs.
Or works with the "Quick Change" system (the Quick Change" system consists of two different tops).
In the QC system the plate which bolts on top of these 4.0″ legs is called a "Quick Change Base Plate". Then a second plate, called QC Top plate will slot into the QC Base plate. QC Top Plates come in the full range types of presses and other accessories also.
The 4.0″ leg height is ideal where there is not much available height above the bench for your press to fit and operate.
This 4.0″ high leg set will require fitting near the front edge of the bench for most applications. So the press handle and linkage system does not contact on the bench.
NB: if the 4″ high legs are still too high for your application, there is a mount system for fitting directly onto the bench top. But that system is only for the Quick Change plate arrangement called the "Flush Mount Quick Change system".
Illustrations of the three different leg height sets.  9-3/4″ Tall,  7-1/2″ Mid and 4.0″ Micro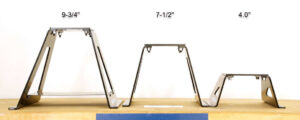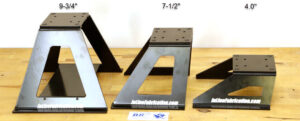 Click on the image for video comparisons…