Description
Ultramount Leg Set 9.75 inch InLine Fabrication
This leg set is the Tallest size of the 3 types of InLine leg sets available. This set consists of 2 x legs (9-3/4″)
Works with either the "Dedicated" system of press Top plates. A range of Dedicated Press Top plates are available to suit most presses and bolt directly on top of these legs.
Or works with the "Quick Change" system.  For the Quick Change" system to work there will be two different tops needed.
In that QC system the plate which bolts on top of these 9-3/4″″ legs is called a "Quick Change Base Plate". Then a second plate, called QC Top plate will slot into the QC Base plate. QC Top Plates are made to suit a range of different types of presses and other accessories also.
This 9-3/4″ leg height will allow you to mount with most presses in any location on your bench. Not necessarily on the edge of the bench. Which can be helpful.
Depending on your press type and application, you would need to take into account your press handle and linkage system movement so it does not contact on the bench if setting back from the edge. So as always, please measure up.
NB: There is also a 7-1/2″ and a 4″ height leg set available for lower mounting needs. There is also a mount system for fitting directly onto the bench top. But that system is only for the Quick Change plate arrangement system and it is called the "Flush Mount Quick Change system".
Illustrations of the three different height leg sets available. The 9-3/4″ Tall, the 7-1/2″ Mid and the 4.0″ Micro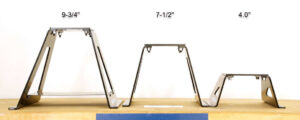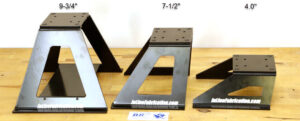 Click this image for video comparisons…