Description
KM Shooting Neck Turning kit
PLEASE NOTE – THIS KIT IS NOT FOR CALIBERS ABOVE 338cal. You will need the Large Neck turn body for 35, 9.3mm, 375, 408, 416, 45 and 50cal
This kit with KM Shooting neck turning gear is ideal for doing a limited number of cases.
Contains the KM micro adjustable neck turner with HS steel cutter 50deg. There are more specific cutters
HERE
Steel Neck turn  mandrel. Choose your calibre
Steel Expander mandrel. Choose your calibre
Press adapter to hold the expander and screw into your reloading press.
Power adapter/Case holder
Flat style shellholder. Choose from Shellholder Chart
Handle to do the neck turning manually. Or use the Power adapter fitted into a cordless drill or screwdriver.
NB> Max speed 200 rpm
Tip: For medium to long cartridges we suggest also buying a KM Window riser unit to bring the expander system up higher in your reloading press.
Click the image for a video about the tools…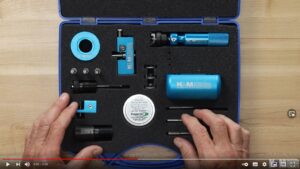 (6mm, 30 cal, 174, 204. 224, 243, 257, 264, 277, 284, 308, 311, 315, 338,357, 366, 375, 408, 416)